Istanbul at first glance
Istanbul does feel like a city ran by cats. They are entitled to every space in the city and people feed them and love them: book shops, piercing parlors, and in one case the VIP table at a bar we found close to Taksim Square.
When it came to planning, we had some help: friends that had lived their whole lives in Istanbul suggested neighborhoods where we might find top spots for baklava (Karaköy), mussels (Midyeci Ahmet - the Lord of Mussels), or a full Turkish breakfast (Beşiktaş).
Thanks for reading Why Go There! Subscribe for free to receive new posts and support my work.
A friend gave us a lift back to the hotel on our first night in town, saying while he maneuvered through the busiest parts of Karaköy that one has never learned to drive if they haven't driven through Istanbul. Even before 2 a.m., traffic on the European side seemed super intimidating - but they have a pretty accessible public transit system for tourists to navigate. Your red Istanbul transit card can scan multiple people in at once to take the tram, the bus, the funicular.. Even the ferries that cross the Bosphorous Strait. Yes, it's totally worth it to cross to the Asia side - we had a lot of fun. Aseef & I felt like we found the cool spot in Kadıköy, where all the young people flock. He even felt quite at home with all the other dudes that were sporting nose rings.
We had a lot of fun using public transport, and are just a LITTLE bitter from the whole experience about the state of it in most cities in the United States. Though, let's be real… the amount of tourists in Istanbul every day are more than the population of each US city (save only NYC).
There was a lot to see, but the ~free~ stuff is in the Sultanahmet neighborhood on the European side: a beautiful park overlooking the city, with two historically-epic mosques that we could visit respectfully. Still, I got a lot of laughs watching little kids bounding through historic holy spaces as if it was their personal tumbling gyms.
The Sultan Ahmet mosque, or the Blue Mosque, has been under renovation for 5 years. It's supposed to boast some exquisite tile work inside, but it's been largely obscured by construction. The inside of the dome is visible — but we weren't too disappointed — we found our way to the Mihrimah Sultan Mosque, commissioned by the daughter of the longest ruling sultan, Sultan Süleyman, (thus getting only one minaret). This smaller mosque features painted blue tiles from the same town of Iznik as the ones in the famed "Blue" mosque.
This smaller mosque is also famous because it's built by THE chief Ottoman architect, Mimar Sinan (who went from being kidnapped from his Armenian family to leaving a mark on the Ottoman style; he is responsible for the wonderful acoustics at the grand Süleyman Mosque).
Honestly, walking through Istanbul, the beautiful and elaborate mosques is a perfect amuse-bouche for the complex history and intrigue of the centuries of Ottoman rule. There's so much juicy stuff there… they should really make a TV show about it. Kidding - they have! And then, of course, there's the newest hard-to-miss mosque, built in —— on the Asia side of Istanbul, so grand that it fits 6,000+ worshippers, though it's said maybe only 100 people will be in there at any point. It is super visible across the river, but a lot of people seem to think it's a waste of money to have such a giant mosque in a low traffic area, built under the order of the current president to be more grand than even the mosques of the sultans (6 minarets instead of 4! It's a new record that has tour guides stumped on explaining its symbolism in a remotely polite way.)
I would love to come back to Istanbul, to try living a little longer there -- maybe my Duolingo Turkish skills will catch up to make it easier to joke around. All the hills being close to the water mean that the big touristy areas will offer views of the whole city at every steep street drop-off. And the friendliness and energy of the whole city is just very charming. The reason I'd be a little hesitant is the amount of (well-fed) seagulls that we saw, swooping in over certain terraces. I dislike seagulls since seeing Hitchcock's Birds, but also because their eyes don't seem to possess any sort of look that my brain can translate into "kindness." I don't trust them. And not just because I got hit by some bird poop.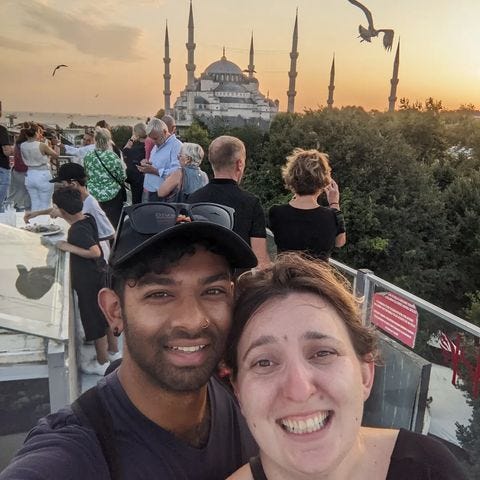 Anyways.. Istanbul was incredible - we loved everything from the action of the city to the food, though Aseef never found quite enough spicy options for his liking. Maybe Turkey is something to consider for a longer term, perhaps after the Turkish Lire recovers.
Reading the Revolution
Will be picking up as much fiction as I can written in the countries I visit, focusing on works that were at one time censored or banned in the countries where they were published, or written by authors that were helping shape political movements.
Pick for Turkey — Ince Memed (or Slim Memed in the original '55 publication) — because it was first described to me as "the Robin Hood of Anatolia."
Thanks for reading Why Go There! Subscribe for free so you don't miss the next edition.